PRODUCT LIST
CONTACT US
Tel: 0086 136 4729 7999
Email: info@beiben-trucks.com
Address: No 99 , auto industry park, suizhou city, hubei province, china.
Products
china Beiben 2534 water tanker 22 CBM
Product Details
22 CBM beiben water tanker manufacturer in china, we are the best beiben 20 CBM water tanker truck supplier, can provide the best quality beiben 2527 water tanker truck, beiben 2529 water tanker trucks and other beiben 20 Cbm WATER TRUCKS.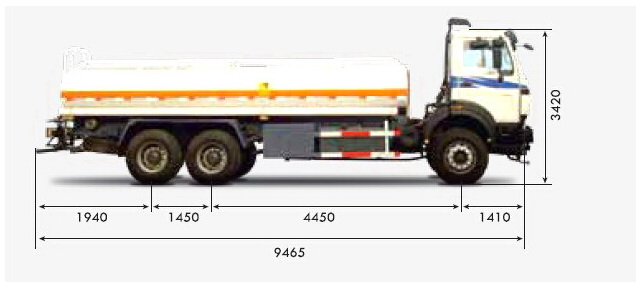 Description:The CEECWater Truck Series has multiple functions, multi-angle powerful dredging,separation zone cleaning, flushing guard rail of freeway, low flat flushingwith strong water flow, road sprinkling, flower watering from both sides.
Name

Standard configuration

♦ Model:

CEEC5201GDFL beiben 22 CBM water tanker truck


♦ Drive type:

6x4 left hand drive

♦Wheelbase

4450+1450 mm

♦ Cab type:

All-steel-welded construction, power tilting cab; spring suspensions with hydraulic shock absorbers. The color is white.2 seats, AM/FM CD/MP3 Player

♦ Air condition

Yes

♦ Engine

Model

WP10.380

Type

6-Cylinder in-line, 4-Cycle, Water-cooled, OHC, Turbo with intercooler

Max power

279 kw (380hp)

Displacement

9.8 L

♦ Transmission

Fast technology 9-shift Manual, 9 forward and 1reverse speed

♦ Fuel tank

300 Liters

♦ Tyres:

10.00-20

♦ Maximum drive speed:

105 km/h

♦ Max.Gradeability

31%

♦ Truck Curb Weight

11400 kg

♦ Overall Dimension (LxWxH)

9460x2500x3600mm
PreviousBeiben V3 water tanker truck 20 CBM
20 units beiben 3134 dumper are stay greatly in tanzania customer plant. China beiben 340 hp engine 8*4 drive dump trucks are widely used in tanzania customer, for transporting mining rock, heavy duty material .More than 100 units north benz 3134 type 12 wheeler dump trucks are used in tanzania country. We welcome all customer from tanzania to plac...