PRODUCT LIST
CONTACT US
Tel: 0086 136 4729 7999
Email: info@beiben-trucks.com
Address: No 99 , auto industry park, suizhou city, hubei province, china.
Products
Congo beiben 2548 tractor truck
Product Details
We are the best supplier of beiben 2548 tractor truck, beiben 2542, 2538,2534,2530 type tractor truck for CONGO, pointe noire , brazaville. Currently we supply beiben NG80B cabin tractor truck, NG80B tractor truck for all congo customer. All the beiben tractor truck from us can be 4*2 driving sytem , 6*4 driving system, and 6*6 driving system. We welcome all congo customer to order beiben tractor trucks from our plant.
GERMAN QUALITY DNA
Beiben trucks thanks to German and Mercedes Benz technology and heritage are manufactured to the highest international standards and the strictest military quality controls. Our prices are considerably lower than European, American and Asian competitors; including Mercedes Benz Actros sold in CONGO

The decision to buy a truck takes into account many factors, but most important is the confidence to deliver consistent service over many years with little down time and expense, all while delivering excellent fuel mileage. Beiben is the only Asian heavy duty truck company capable of providing the quality found among European and American manufacturers.

Vehicle Name:

Beiben 6*4 tractor truck

Dimension

7240*2500*3600 mm

Types of drive

left hand drive (LHD )

Truck model number

2548

Drive wheel

6×4

Engine model

WD12.480 Diesel 4-stroke direct injection engine, 6-cylinder in-line with water cooling, turbo-charging & intercooling

Horsepower(hp)

420

Bore*stroke (MM)

137*155

Displacement (L)

11.596

Rated speed (R/min)

2200

Max torque (Nm)

1980

Max Torque speed( R/min)

1300-1600

Lowest fuel consumption (G/kw.h)

< 198

Net weight (KG)

980

Meridian tire

12.00R20

Number of tires

10 + 1(spare wheel)

Saddle types

50# (2 inch)

Transmission types :

12JS200T , 12 shift transmission, FAST technology

Steering mechanism:

D 50 ( Germany technology)

Clutch

GF430 diaphragm type

Wheelbase (mm)

3450+1450

Cab style

Long with 2 beds, Benz technology

V3 Long-high roof cabin with double sleepers
Full steel skeleton structure, covered with double layer steel plate;
Can be tipped forwardly;
High back seat for driver; Electric lifting window ;
With inner A/C

Air-condition

With air-condition

Cab body style

The whole steel ,The driver's seat adjustable , high safety,lower wind resistance coefficient, Benz Technology.

Steering system

High safe and reliable, and flexible, ZF8098

Brake system

Service brake ,Can automatically adjust the brake clearance, Double air brake system , WEVB

Electric system:

Stronger load ability, high reliability and easy maintenance

Truck frame style

Fish maw shape, inequilaterally section, equal intensity, Benz technology

Front axle

Benz 7.0T Transaxle

Rear axle

Benz Technology,double deceleration bridge, high efficiency, carrying large, Mercedes Benz strengthened axle (punching-welding axle housing, double reduction driving axle, inter-wheel differential and differential lock)

Ratio=5.683

Electric system:

Stronger load ability, high reliability and easy maintenance,24 V

Emission standard

Eur 2 & EURO 3

Fuel tank capacity (L)

400

Optional equipment

Saddle , upper berth, ABS , squareness silencer.
This is because Beiben is actually a truck with German technology and heritage, but produced in Asia.. Beiben trucks are designed to support over 70% overload while traveling at 80km/h and at over 5,000 meters high. Beiben trucks and Mercedes Benz trucks share many features such as HL7, HD7 and VL4 axles used in the Actros and Atego models. They both share familiar gearboxes - ZF and Fuller Fast. Beiben trucks are offered with these engines - Mercedes Benz and Weichai WD615, WP10 and WP12. They comply with Euro 2, 3 and 4; have displacements of 10 and 12 liters and HP of 270 to 480. Bosch Common Rail injection, the Euro 2 with linear pump, motor and brake valve MAN Exhaust (Jack-Brake), among other qualities.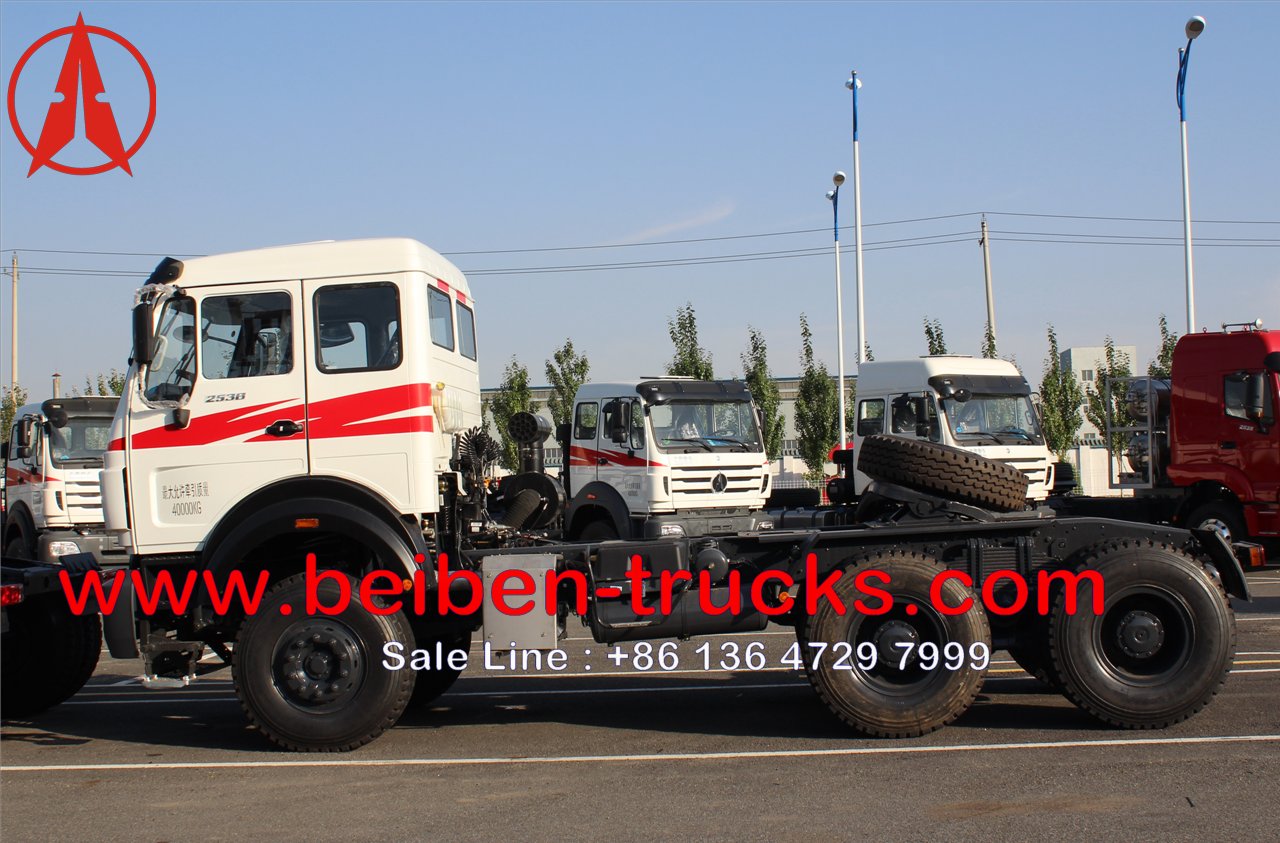 Our beiben 2538 tractor truck for CONGO customers.

SERVICE AND REPAIR For CONGO BEIBEN TRACTOR TRUCKS

We offer a state of the art repair and service facility for all our congo beiben tractor truck customers. For beiben 2548 tractor customers with road side emergency issues, we have two mobile service and repair teams' available 24hours/7days/365days to meet our customer's needs. We are establishing service and repair centers in all regions within CONGO.
BEIBEN TRACTOR TRUCK SPARE PARTS
Availability of congo beiben tractor truck spare parts "will never be a problem" as we always have a large stock of spares which will cover our entire customer needs.

Beiben and Mercedes trucks share several interchangeable parts

meaning that Beiben trucks can use original Mercedes Benz Actros and Atego (SK/NG) spare parts or alternatives to the Mercedes Benz SK / NG ranges.

Cataloging and ordering of these parts are the same for both brands, making it easy to search and buy
PreviousBeiben 2544 tractor trucks
NextNorth benz 6x4 beiben tractor ethiopia
30 units 60 T heavy duty bogie suspension cargo semitrailer are sucefully exported to Ghana. These 2 axle bogie suspension container semitrailer are all in reinforced heavy duty type, 60 t bogie suspension system and tyres make the bogie suspension semitrailer can be suitable for any kind of work situation in GHANA country. China best bogie suspens...