PRODUCT LIST
CONTACT US
Tel: 0086 136 4729 7999
Email: info@beiben-trucks.com
Address: No 99 , auto industry park, suizhou city, hubei province, china.
Products
beiben off road crane truck 1934
FOB Price

$61,000-$69,000

Production time

60 days

Payment terms

T/T
enquiry
Product Details
Product Details
beiben 4*4 all wheel drive truck

Applications:
beiben 1934 all wheel drive truck ,also called as beiben 4 wheel drive truck chassis, beiben 4*4 drive cargo truck, china beiben 1934 all wheel drive truck, north benz 1934 all wheel drive truck, is designed for producing beiben water truck, beiben fuel truck, beiben crane truck, and beiben cargo trucks. . This beiben heavy duty truck chassis can loading, transporting and discharging heavy duty material , also can be used in for extremely road and weather situation, can be used in wild area, off road area.

china beiben 1934 truck chassis apply germany benz technology device, with extremely work performance.

The north benz 4*4 wheel drive cargo truck Box material optional: Manganese steel & Carbon steel, which is safe and durable.
Key Features:
---- North benz 1934 chassis, strong military driving system

---- Military quality , Mercedes benz technology

---- 9JS150A transmission, super combination.

---- Patented axle technology, with wheel reducer

---- Completely steel cabin , safety and reliable.

Specifications:

Africa beiben 1934 off road truck


Model

Beiben 1934 all wheel drive crane truck


Driver's cab

Long cabin, one sleeper

Engine

Maker: North Benz

Diesel 4 stroke direct injection diesel engine, 6 cylinder in-line with water cooling,turbo-charging & inter cooling

Engine model: WP10.340NE32
EURO II/EUROIII emission standard

Maximum output:340hp@2200rpm

Number of cylinder:6

Displacement: 11.726L

Clutch

Single-plate dry coil-spring clutch,diameter 420mm,hydraulically operating with air assistance

Transmission

Fuller 9JS150T transmission.

Front Axle

Mercedes Benz, drum brake

Rear Axle

Mercedes Benz double reduction drive axle, ratio=5.2

Steering

ZF8098

Wheel & Types

Rims:8.5-20

Tyre:12.00R20 tube

Optional: 12R22.5//315/80R22.5

Radial tire is optional

Electrics

Operating voltage: 24V,negative grounded

Dimensions in mm

Wheel base : 4500

Overall size: 9850x2500x3385

Weight in kg

Kerb. mass: 8400 kg

Total mass: 25000kg

Performance

Maximum driving speed(km/h) 85

Body in mm

6000x2300x800

The manufacture reserves the right of technical alteration/change for better improvement prior notice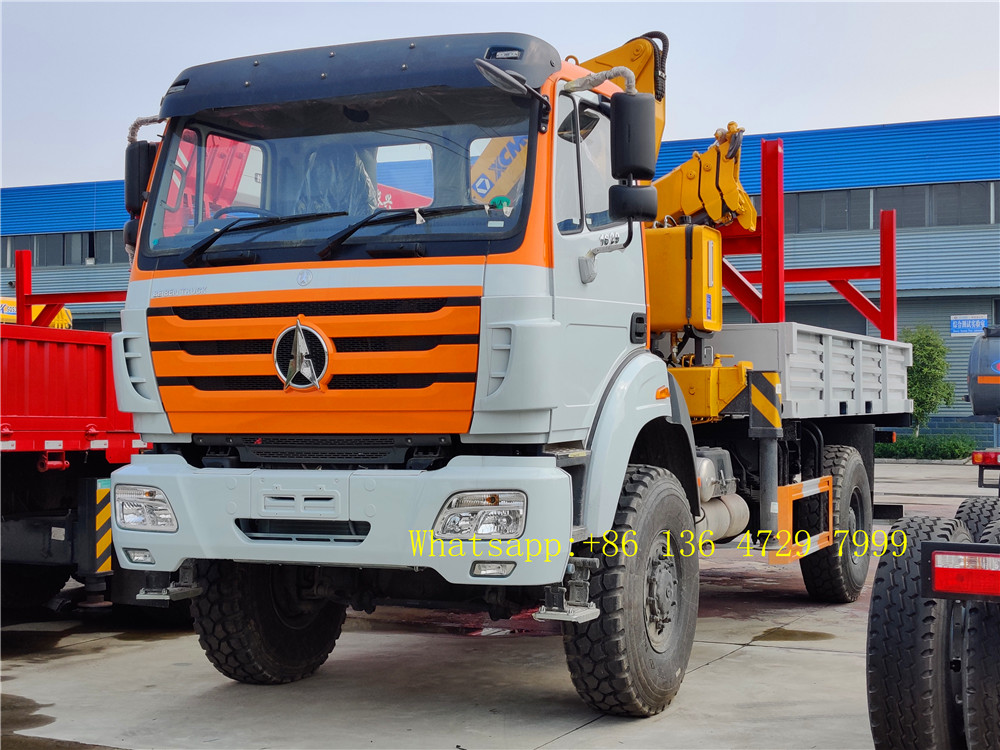 china beiben right hand drive off road truck, with XCMG crane.
all wheel drive system, china beiben 4*4 truck
Previousbeiben 4*4 drive truck
8 units beiben 40 CBM fuel tanker trucks are sucessfully exported to Middle east country. As the authorized beiben fuel tanker truck manufacturer in china, we have lots of loyal customer that place order on beiben 4*2 drive fuel truck, beiben 6*4 drive oil tanker truck and beiben 8*4 drive oil fuel trucks. Beiben V3 fuel tanker trucks...