PRODUCT LIST
CONTACT US
Tel: 0086 136 4729 7999
Email: info@beiben-trucks.com
Address: No 99 , auto industry park, suizhou city, hubei province, china.
Products
65 T heavy duty bogie suspension container semitrailer
Product Details
65 T 2 axle bogie suspension container semitrailer manufacturer
Over the last 25 years, we have manufactured various types of bogie suspension container flatbed semi trailers. We are experienced enough to meet your diverse demands. Presently we are supplying over 20 nations, including Russia,Kenya, Philippines, and Bolivia.
The bogie flatbed semi trailer is a specialized transport for all kinds of containers. You can use it to carry one 40inch cargo container, two 20inch containers, or one 20inch container at one time. In such cases, users need to change the number of locks needed for the specific applications.
2 axle bogie Flatbed semi trailers have a key role to play in the multimodal transport system. Various shipment options, including sea, air, road, and rail transportations, require the use of a flatbed trailer. The vehicle is also commonly seen in the ports and tunnels, on the bridges, and at the interchange stations.
Upon your request, we can add removable side rails and posts to the 2 axle bogie semi trailer to make loading and unload easier than before. In addition, the trailer can be uncoupled easily from one kind of transport facility and then directly connected to another.
Depending on the distance to customer destinations and the availability of welding service at customer site, customers can choose one of two ways their semi trailers are shipped: either break bulk shipping or containerized shipping.

The break bulk cargo comes fitted with three semi trailers stacked on one another. After reaching the destination port, users should use a crane to unload the trailers from the ship.
In a containerized cargo, the trailers are coupled to one another with high-strength bolts. When customers receive the trailers at the port of discharge, they only need to get the trailers out and put them into use directly for carrying a maximum of 30tons of goods. Of course, customers can send the trailers to the welder, where the bolted joints can be welded for reinforced connection. Customers can use our trailer with confidence, as this product has been serving Kenyan markets safely for five years.
Our 2 axle bogie suspension container semi trailer can be tailor made to suit individual needs. Simply tell us the kind of goods to be carried, and we will design a suitable trailer accordingly.
| | |
| --- | --- |
| Tare Weight | About 8.1T |
| Dimension | 12450mm × 2490mm× 1575mm |
| Loading Capacity (T) | 60-70 Ton |
| Axle | Germany 32 T bogie suspension axle |
| Rim | 9.00-22.5 or 9.75-22.5 |
| Tire | 12.00R22.5 |
| Suspensions | Mechanical suspension (Germany or America type)Or air suspension (China brand or BPW brand ) |
| Spring Leaf | 90(W)mm×13(Thickness)mm×10 layers or 100mm×12mm×12(specially intended for overseas markets) |
| King Pin | JOST brand 2.0 or 3.5inch (bolted or welded) |
| Landing Gear (Support Leg) | JOST brand D200T or China brand 28Tons (Double speed) |
| Main beam | Height: 500mm Upper plate: 14mm Middle plate: 8mm Bottom plate: 16mm Material: Q345B Steel |
| Side Beam | 16mm or 18mm steel channel (material: Q235steel). |
| Platform | 3mm-thick checkered plate |
| Brake Chamber | WABCO RE 6 relay valve; T30/30+T30 Spring brake chamber (TKL brand); 45L air tanks |
| ABS | Optional |
| Twist Locks | Four ,Eight or Twelve pieces (lifting type or twist Screw type)(specially intended for oversea market ) |
| Valve | WABCO valve (specially intended for oversea market ) |
| Light | LED light (specially intended for oversea market ) |
| Voltage | 24V |
| Socket(Receptacle) | 7-pin Socket (for 7 wire harness) |
| Tool Box | 1m × 0.5m × 0.5m (The tool box contains 1 tire spanner, 1 gudgeon sleeve and 1 cranking bar. Its size can be tailored to suit your needs.) |
| Painting | Sandblasted, anti-rust chassis surface is available with 1 layer of anticorrosive primer and 2 layers of top coats. |
| Shipping Terms | Transported by the bulk carrier in an RORO or 40HQ container. |
Super quality bamper, all parts are connected by bolt, easy for after sale servie.
Reinforced semitrailer frame, can work very well in AFRICA.
JOST A400T land gear, the No 1 choice for heavy loading capacity.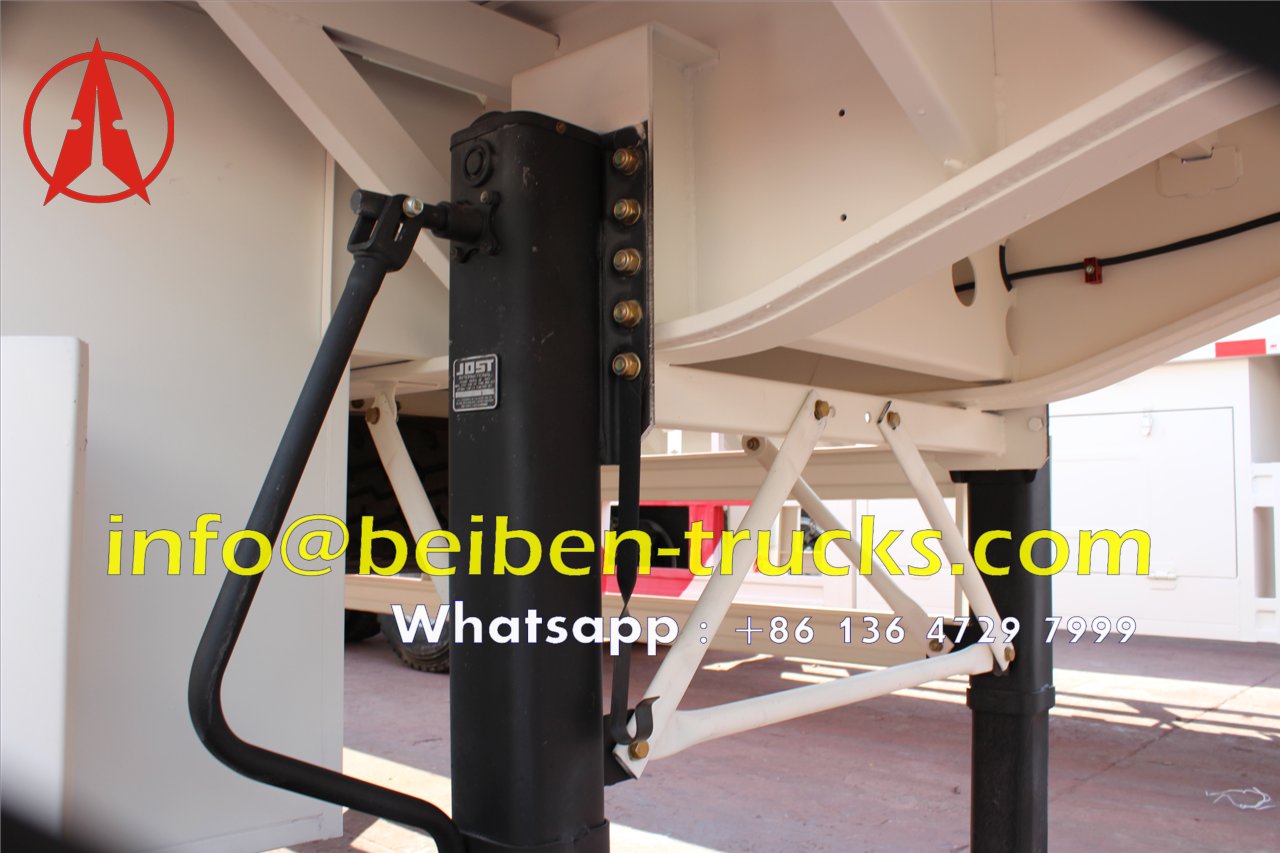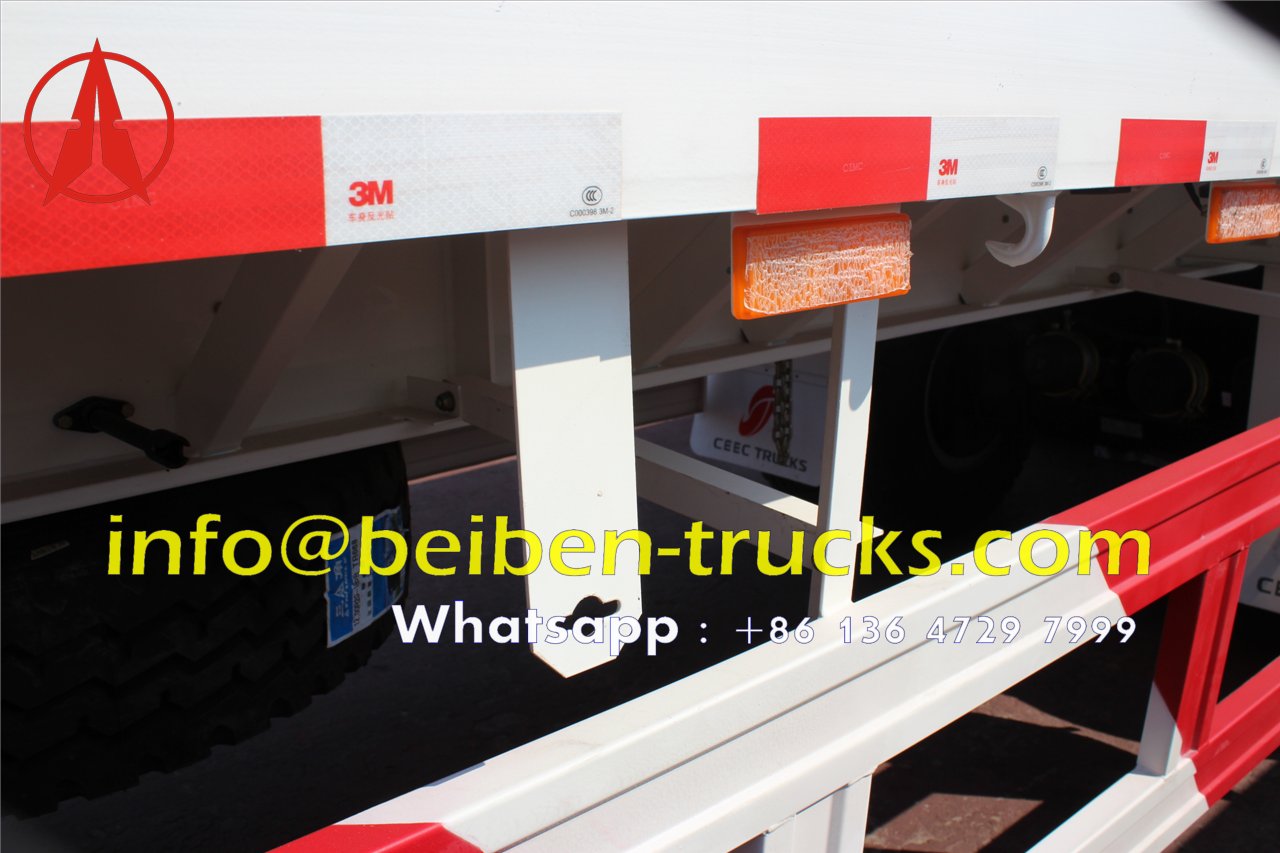 32 T Heavy duty bogie suspension , With germany BPW technology, but price are 30% lower.
CEEC TRUCKS Logo, the famous brand of bogie suspension container semitrailer manufacuturer.

Strong braking sytem
http://beibentruck.blogspot.com/2015/10/cheap-price-for-50t-60t-70t-bogie.html
Previous60 T 2 axle bogie suspension semi remorque
Next60 T bogie suspension container semitrailer supplier in china
20 units beiben V3 oil tanker wagons are successfully used by tanzania customer. These beiben V3 fuel truck are all right hand drive drive, with full Germany Mercedez benz technoly. China beiben V3 truck cabin is completely absorb the BENZ ACTROS cabin design, very good performance and super reliable quality. China Beiben V3 trucks, Germany ...