PRODUCT LIST
CONTACT US
Tel: 0086 136 4729 7999
Email: info@beiben-trucks.com
Address: No 99 , auto industry park, suizhou city, hubei province, china.
Products
Beiben 2538 dump truck
Product Details
Beiben 2538 dumper 60 T capaicty U type cargo box.
we provides greater durability and superior performance with its newly Beiben 60 T reinforced heavy-duty trucks of responding to customer's needs.
Beiben 2538 heavy duty dump truck chassis drawing.

North benz 60 T U type dump truck drawing

Areas of beiben 2538 U type dumper Application and Use:
◆Mining area
◆Construction site
◆Municipal road construction
◆Transport of stone, sand, gravel
Key Features:
◆Germany BENZ technology chassis with high durability and reliability
◆ Germany BENZ technology engine combined with original rear axle reducer gear and differential gear
◆Continuous welding throughout body for additional strength, Full depth rear corner post with full depth rear crossmember.
◆ Enhanced body, and the motherboard adopts variable cross-section beams.
◆Special beiben 60 t Dump Body Design are optional
◆Other customer requirements are welcome
2538K /6×4/4100+1450/Short Cab/LHD or RHD

Dimension

8880*2500*3430mm

Cargo box

5600x2300x1350mm, HYVA hydraulic lifting system; thickness: bottom 8mm, side 6mm

Approaching angle/Departure angle

26/28°

Overhang(front/rear)

1410/1720mm

Wheel base

4100+1450mm

Max speed

85km/h

Curb weight

12650kg

Engine

Model

WP10.380E32, water-cooled, four strokes, 6 cylinders in line, turbocharged, directly injection




Displacement

9.726L/Diesel




Stroke

126/130mm




Max. power

280/2200 (kw/rpm)




Max.torque

1600/1800(N.m/rpm)




Emission

Euro III

Fuel tanker capacity

300L

Clutch

∮430, Single dry frictional disc,Hydraulic boosting

Gearbox

9JS180, mechanism, 9 forward gears, 1 reverse gear, manual operated

Gear ratio of gear box

12.65/8.38/6.22/4.57/3.4/2.46/1.83/1.34/1.00 R:13.22

Suspension system

Front

Non-free standing leaf spring,telescopic shock absorber with stabilizer bar suspension , 10pcs




Rear

Non-free standing stabilization spring, balance suspension system, 13pcs

Brake system

Service brake

Brake gap can be adjusted automatically, double circulation air brake system




Assistant brake

Engine exhaust brake




Park brake

Potential springs pressing on middle and rear wheels

Steering system

ZF8098 hydraulic steering with power assistance

Frame

Strengthened Straight beam

Front axle (Mercedes Technology)

Double-shoe pneumatic brake, non-driving steering axle

Middle and Rear axle (Mercedes Technology)

Double-shoe pneumatic brake, ductile casting casing, with hub redactor, double reduction driving axle

Tyre

315/80R22.5 tubeless tyres

Electrical system

Battery

2X12V/135Ah




Generator

28V-35A




Starter

5.4Kw/24V

Cabin

NG80B Long cabin one sleeper and inner A/C ;
Full steel skeleton structure, covered with double layer steel plate;
Can be tipped forwardly;
High back with arm seat for driver, high back seat for co-driver; With inner A/C
Dump Body

Body type

U type dumper standard body

(more body type refer to using environment)

Inner size

5600x2250x1300 mm

Side/front/tail plate thickness

8 mm Q550 high strength steel

Deck plate thickness

10 mm Q550 high strength steel

Lifting system,

China famous hydraulic lifting system

Lifting Type

Middle tipping

Tipper body lifting time,

≤ 20 S

Tipper body Falling Time

≤ 20 S

Max. lifting angle

52°
FAST PRODUCTION TIME ,
15 days

for Beiben 60 T u type dump truck manufacturing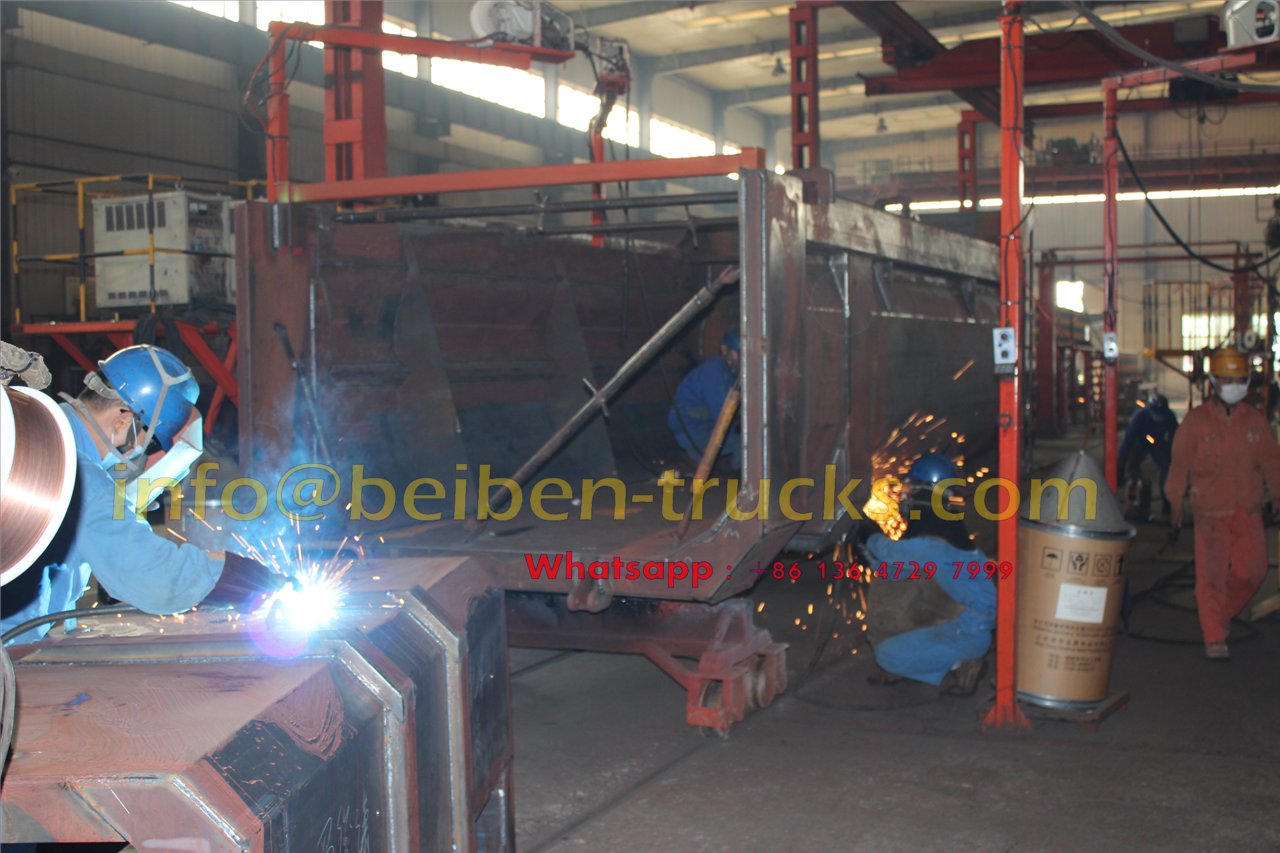 Beiben 60 T U type dump truck for africa cameroon customer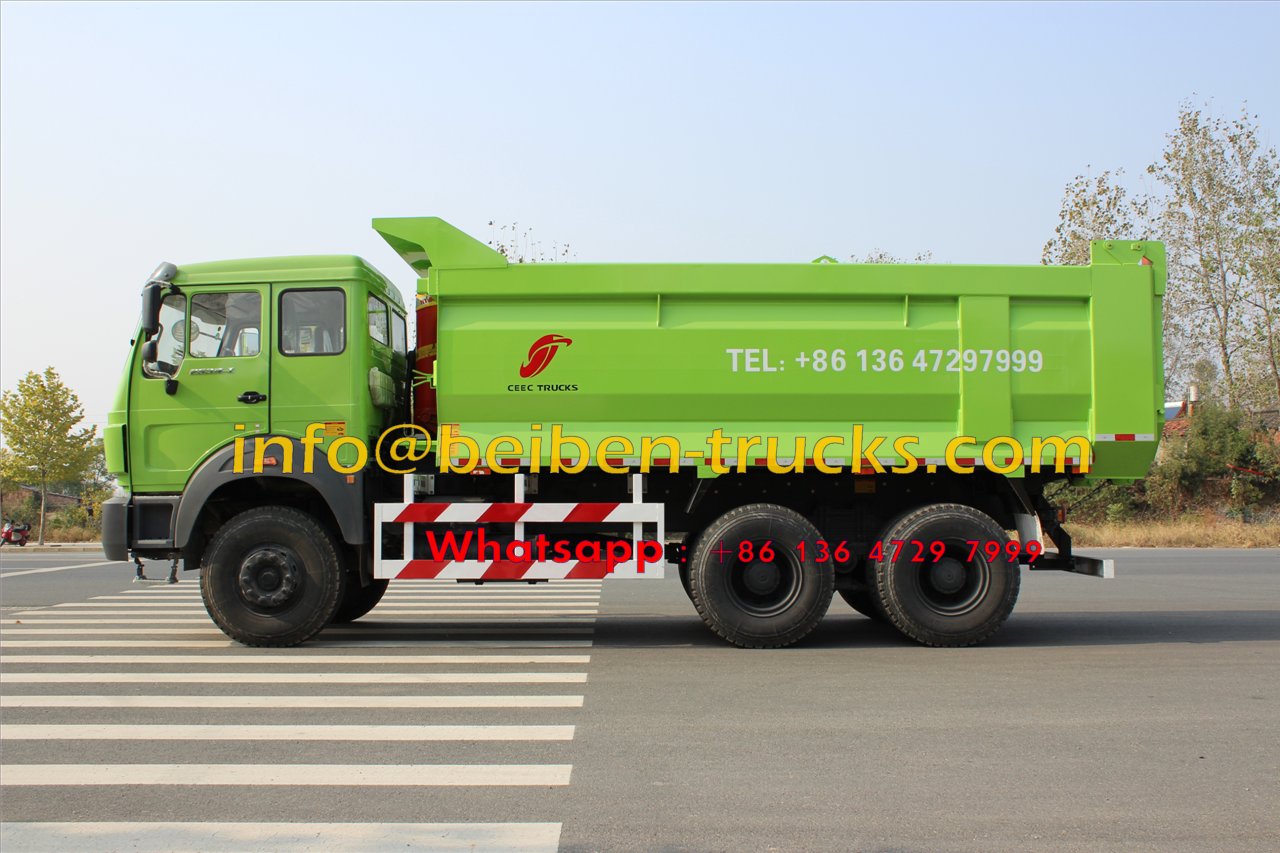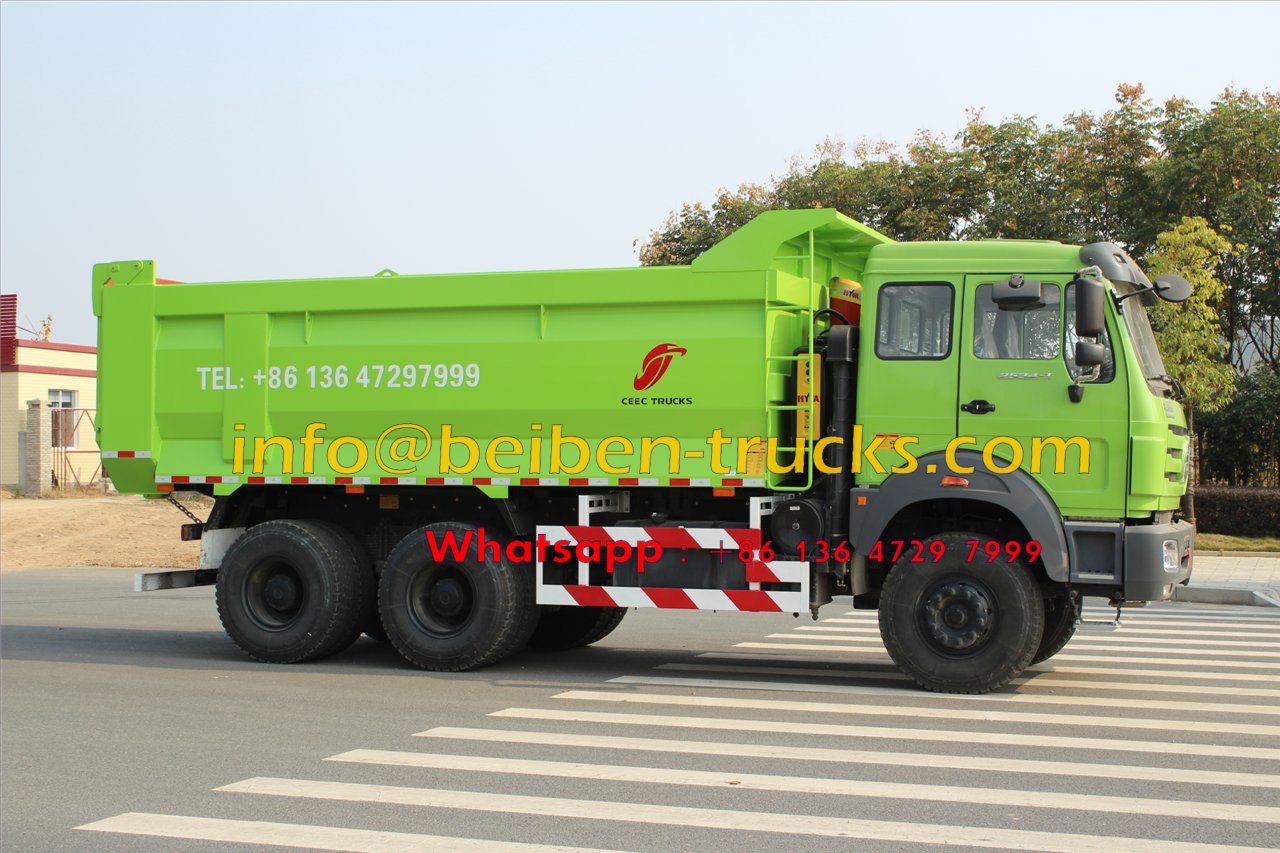 PreviousPopular in Africa Factory heavy duty truck 6x4 dump truck beiben dump truck
NextChina beiben 35 T dump truck heavy duty type
Congo brazzaville customer order 10 units beiben 2638 logging semitrailer Client: Congo brazzaville customer Year: May, 2016 Key Points: Sourcing of beiben 6*6 drive wooden transportation truck. ★ Design and manufacturing beiben 6*6 drive logging truck withine 2 months ★ Maintain ful...