PRODUCT LIST
CONTACT US
Tel: 0086 136 4729 7999
Email: info@beiben-trucks.com
Address: No 99 , auto industry park, suizhou city, hubei province, china.
Products
Beiben 2534 V3 cabin dump truck chassis
Product Details
China beiben V3 cabin 2534 dump truck manufacturer
China best

beiben V3 cabin dump truck manufacturer

, we can produce beiben V3 2529, 2534, 2538,2542,2546 dumper, with beiben latest dump truck technology. Great experience in designing and manufacturing north benz V3 dumper truck, beiben V3 cabin 30 T dump truck, 40 T dump truck, 50 T dump truck, 60 T dump truck.
We will ensure the super quality for beiben V3 10 wheeler dump truck, and beiben V3 cabin 12 wheeler dump truck.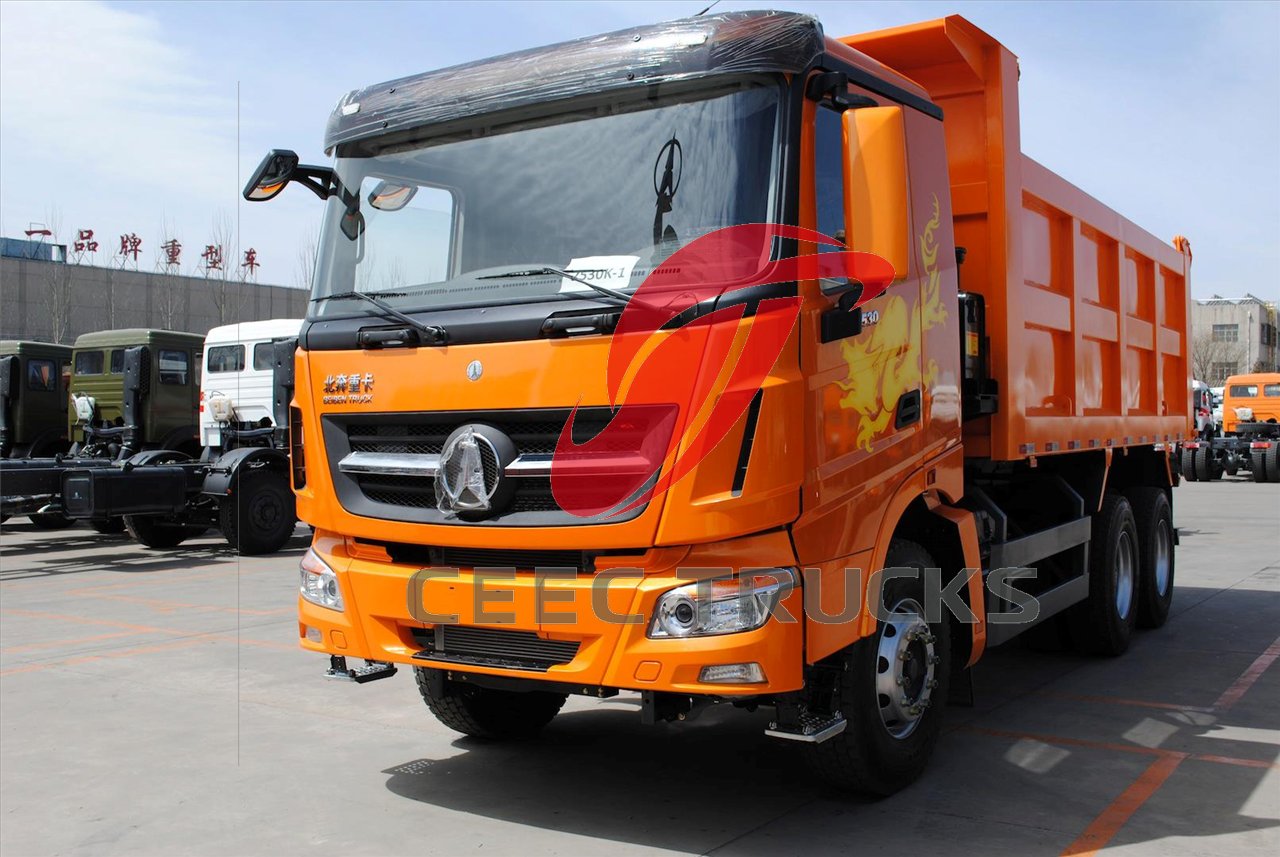 Both left hand drive beiben V3 dump truck and right hand drive beiben V3 dumper are avaiable.

2538KY /6×4/4750+1450 Middle Long Cab

Dimension

9880*2500*3430mm

Upper body inner dimension

7000x2300x950 sand body, Hyva hydralic lifting system, thickness: bottom 8mm, side 6mm

Approaching angle/Departure angle

26/28°

Overhang(front/rear)

1515/2215mm

Wheel base

4750+1450mm

Max speed

90km/h

Curb weight

12280kg

Loading capacity

12590kg

Slope climbing capability

Max.40%

Engine

Model

WP10.375,water-cooled,four strokes,6 cylinders in line,turbocharged, directly injection

Displacement

9.726L/Diesel

Stroke

126/130mm

Max. power

276/2200 (kw/rpm)

Max.torque

1460/1200-1600(Nm/rpm)

Emission stantard

EuroⅢ

Fuel tanker capacity

300L

Clutch

∮430, Single dry frictional disc,Hydraulic boosting

Gearbox

9JS180, mechanism,9 forward gears,1 reverse gear, manual operated,

Gear ratio of gear box

12.65/8.38/6.22/4.57/3.4/2.46/1.83/1.34/1.00 R:13.22

Suspension system

Front

Non-free standing leaf spring,telescopic shock absorber with stablizer bar suspension , 10pcs

Rear

Non-free standing stablization spring, balance suspension system, 13pcs

Brake system

Service brake

Brake gap can be adjusted automatically, double circulation air brake system

Assistant brake

Engine exhaust brake

Park brake

Potential springs pressing on middle and rear wheels

Steering system

ZJ120D,whole circulation in ball, hydraulic booster

Frame

Strengthened Streight beam

Front axle (Mercedes Technology)

Double-shoe pneumatic brake, non-driving steering axle

Middle and Rear axle (Mercedes Technology)

Double-shoe pneumatic brake, ductile casting casing, with hub redactor, double reduction driving axle

Tyre

12.00R20 Radial

Electrical system

Battery

2X12V/135Ah

Generator

28V-35A

Starter

5.4Kw/24V

Cabin

V3 Middle-Long cabin with single sleeper
Full steel skeleton structure, covered with double layer steel plate;
Can be tipped forwardly;
High back seat for driver;Electric lifting window ;
With inner A/C
PreviousBeiben 10 wheeler dump truck in stock
Nextchina north benz dump truck manufacturer
Beiben 2529 dumper in congo customer working site, this north benz 290 hp dumper is used for transporting mine sand, and other low density materia. we supply this beiben dumper to customer in 2011 year. Currently this beiben 25 T dump truck still work very good situation. Our beiben dump trucks quality is very reliable and well accept...