PRODUCT LIST
CONTACT US
Tel: 0086 136 4729 7999
Email: info@beiben-trucks.com
Address: No 99 , auto industry park, suizhou city, hubei province, china.
Products
Hot Sale Beiben Truck in Congo 380hp 6*4 Beiben Dump Truck
Product Details
 Beiben Engineering Dump truck
 City pioneer and trailblazer
 (This series mainly refers to the north benz 6*4 drive dump truck with internal length less than 6.5m, including middle lifting north benz 10 wheeler dump truck and north benz U-shaped dump truck)
 Bump resistance, distortion resistance, high efficiency, and sturdiness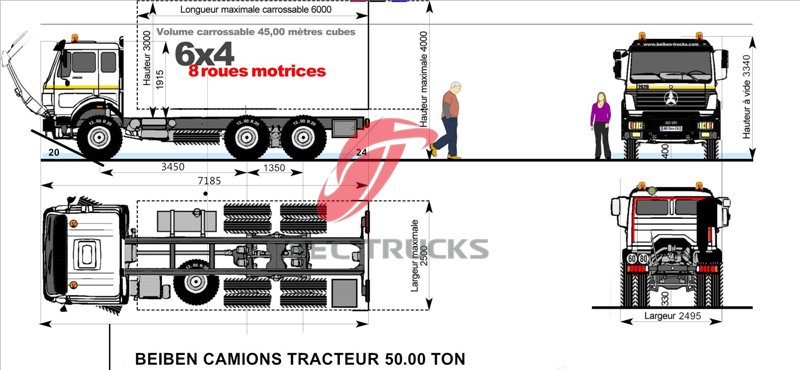 Mercedes Benz Technology WEICHAI engine 340hp & 380hp North Benz Dump Truck
Traction type: 6X4
Driving type: LHD (RHD is optioned)
Main Specification

Model

ND3255B41J

Condition

New

Drive type

6×4

Brand

Beiben Dump Truck

Steering Wheel Type

LHD(Left hand drive) (RHD is in option)

Overall Dimension(mm)

8880×2500×3430

The total mass(Kg)

25000

Kerb weight(kg)

12200

Wheel base(mm)

4100+1450

Dimension of cargo body(mm)

L×W×H

5800/6000×2300×1500

Thickness of steel plate

Bottom: Side:

Capacity

Tipping system

HYVA Front tipping system

Fuel Type

Diesel

Engine

Type

Weichai brand,WP10.380E32

Inline six-cylinder,

water-cooled, four-stroke,

turbocharged inter-cooled

Direct injection

With the exhaust brake

Emission standard

EURO III

Horse power

380hp

Maximum output

280Kw @ 2200 rpm

maximum torque

1600N.m

Displacement(L)

9.726

Full load minimum fuel consumption rate

196g/kW.h

Cabin

BENZ technology NG80B Flat ceiling and Long Cab,

One sleeper,

Exterior trim: NG80B front grid plate, Metal bumper, three steps, sun visor, new mirror system.

Manual glass lift, adjustable steering wheel, manual door locks. with air-conditioning system,

Steering

ZJ120D driver sit at the Left hand side (LHD) ZF8098 is optional

Transmission

FAST mechanical type 12JS200T 12 Speed Transmission,12 forward and 2 reverse

Clutch

Ø430mm dry diaphragm spring diameter clutch Hydraulic boosting

Front axle

Benz technology front axle (7.5 ton), plate (disc) brake

Driving axle

Benz technology drive axle (13ton) double reduction driving axle, inter-wheel differential lock, axle differential lock.

Speed Ratio:5.921 (5.263 is optional)

Brake

Service brake: Brake gap can be adjusted automatically, double circulation air brake system

Parking brake: Potential springs pressing on middle and reel wheels

Engine brake: Engine exhaust brake(EVB)

TYRE Size

12.00R20 radial tyre

No. tire: 10+1 spare

Suspension system

Leaf spring type

Leaf Spring of Front/Rear

10/13

Air condition includes

YES

Fuel tank

300L Iron

Others

Power takeoff, Water tank guardrail, Draw hook, Desert air filter, simple rear axle fender

Color

As the customer request
■Working principle
Beiben dump truck in great order from our plant.
The best beiben dump trucks, beiben 6*4 dump truck, beiben 8*4 dump truck manufacturer in china.

Previous2015 Brand New 6*4 Beiben Dump Truck 380hp
NextHot Sale Beiben truck 380hp 6X4 beiben dump truck for congo
10 units beiben 2538 tractor trucks are at shanghai seaport for shipping. These beiben 2538 tractor trucks and beiben 1934 tractor trucks will be shipped to algeria . Beiben tractor trucks is with germany mercedes benz technology, benz ECR29 technology cabin, benz technology front axle and doube rear axle with double reducer. As the most pot...