PRODUCT LIST
CONTACT US
Tel: 0086 136 4729 7999
Email: info@beiben-trucks.com
Address: No 99 , auto industry park, suizhou city, hubei province, china.
Products
North Benz NG80 WEICHAI Engine EUROIII Truck Hydraulic Cylinder 6x4 Beiben Dump Truck
Product Details
North Benz NG80 WEICHAI Engine EUROIII Truck Hydraulic Cylinder 6x4 Beiben Dump Truck
Building new profit concept in the age of "light weight"
(This series mainly refers to the Beiben light dump truck with internal length above 6.5m, classified into rectangular north benz dump body and U-shaped dump body)
Energy-saving, high efficiency, light weight, and environment-friendly
The steel material of the superstructure is completely upgraded to manganese steel and 610L steel adopted in partial portions, with strength up to 550-700Mpa, which is more than 2 times of conventional steel plate.
The width and thickness for the pillars and ribs of the beiben dump body are sufficiently optimized to effectively guarantee anti-expansion performance of dump body and ensure elegant appearance.
The longitudinal beams of the frame sufficiently utilized the height and the side crossbeam adopts variable section type to reduce the dead weight and ensure sufficient strength.
Wide tail + middle balance stand structure ensure stable and safe lifting of dump body.
Powerful pump and large pipes of the hydraulic system relize fast lifting speed, high dumping efficiency, and durability.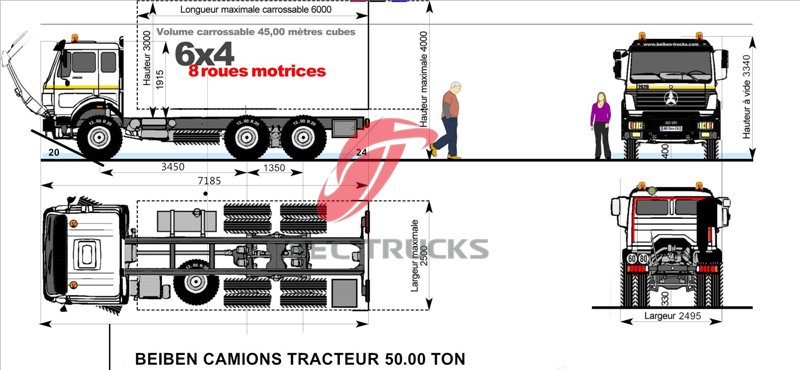 Key Features:
◆Germany BENZ technology chassis with high durability and reliability
◆ Germany BENZ technology engine combined with original rear axle reducer gear and differential gear
◆Continuous welding throughout body for additional strength, Full depth rear corner post with full depth rear crossmember.
◆ Enhanced body, and the motherboard adopts variable cross-section beams.
◆Special Dump Body Design are optional
◆Other customer requirements are welcome
Technical Parameters:
North Benz NG80 WEICHAI Engine EUROIII Truck Hydraulic Cylinder Beiben Dump Truck
North Benz Truck Beiben Dump Truck
Engine Weichai 340hp
Gear box Fast 9JS150A
Mercedes Benz Technology
10 yeas experiences


Model

6x4 dump truck

Cabin

Full steel skeleton structure, covered with double layer steel plate; Can be tipped forwardly; With inner A/C

Engine

Type: Diesel 4-stoke Direct injection,6-cylinder in line, Turbo-charging, Inner cooling.

Model:

WP10. 380E32

WEICHAI Diesel engine

MAX Horse power:

380HP/280KW

Displacement(L):

9.726liter (Euro 2 standard)

Max torque:

1500NM@1200-1600rpm

Bore/stoke:

126mm/130mm

Gear box

Max torque:2000NM

Model:

12JS200T, mechanism,12gears,2reverse gear, manual, synchronization

Speed:

12speed,2reverse

Axle(front/rear)

Front axle

Double-shoe pneumatic brake, non-driving steering axle

Tandem

Double-shoe pneumatic brake, casting, double reduction driving axle

Clutch

Single dry frictional disc,Hydraulic boosting

Brake

Service brake: Brake gap can be adjusted automatically, double circulation air brake system

Parking brake: Potential springs pressing on middle and rear wheels

Engine brake: Engine exhaust brake(EVB)

Steering

TAS85, driver sit at the left hand side

Electric Equipment

Operating voltage:

24Vnegative grounded

Starter:

24V,5.4KW

Alternator

28V,758W

Battery voltage

12V/135Ah,cigar lighter

Frame

Fish belly, shape, variable width, variable sections, side beam structure.

Tyre

12+1 spare tyre with rim

12.00-R20

Suspension system: strongthen heavy duty Leaf spring type

Front/Rear

12/12/13

Dump body:

Inside size of Body(mm): 8900x2300x1000,6x8mm, made of high intensity steel

Lifting type: Front lifter "T" type hydraulic system.

Overall dimension(mm): 11730x2500x3484(Length x width x height)

Wheelbase

1950+4600+1450mm

Track:

Front/Rear

2045/1872

Approach/Departure angle

26/27

Front /Rear overhang

1410/2320

Max speed

90km/h

Kerb weight:

15500kg

Oil tank capacity

300L fuel tank
■Working principle
Beiben dump truck in great order from our plant.
The best beiben dump trucks, beiben 6*4 dump truck, beiben 8*4 dump truck manufacturer in china.

Previous40T 380HP 6X4 beiben dump truck
NextThe Beiben Dump Truck 6X4 Tipper ND32500B48J7 Heavy Duty Truck
20 units beiben V3 oil tanker wagons are successfully used by tanzania customer. These beiben V3 fuel truck are all right hand drive drive, with full Germany Mercedez benz technoly. China beiben V3 truck cabin is completely absorb the BENZ ACTROS cabin design, very good performance and super reliable quality. China Beiben V3 trucks, Germany ...