PRODUCT LIST
CONTACT US
Tel: 0086 136 4729 7999
Email: info@beiben-trucks.com
Address: No 99 , auto industry park, suizhou city, hubei province, china.
Products
china beiben 20 CBM water wagon
Product Details
china beiben 20 CBM water wagon
we are the best baotou beiben20 CBM water tanker truck supplier, can provide the best quality baotou beiben 2527 water tanker truck, baotou beiben 2529 water tanker trucks and other baotou beiben 20 Cbm WATER sprinkler TRUCKS.
China best beiben water tanker truck manufacturer and exporter.
More than 10 years in supplying and exporting beiben tanker trucks, we CEEC TRUCKS plant have exported more than 300 units kinds of north benz water trucks. range from beiben 4*2 drive water wagons , beiben 6*4 water wagons and beiben 8*4 water vehicles. All the spare parts for our beiben water sprinkler is with long guarnatee more than 12 months.
We welcome all customer from the whole world to visit our beiben water tanker trucks plant to place order. Currently we can supply beiben 1827,2527,2530,2538 water tanker trucks. and based on customer's special requirement, we can also produce beiben 4*4,6*6,8*8 dirve water truck and other beiben all wheel drive water tanker trucks.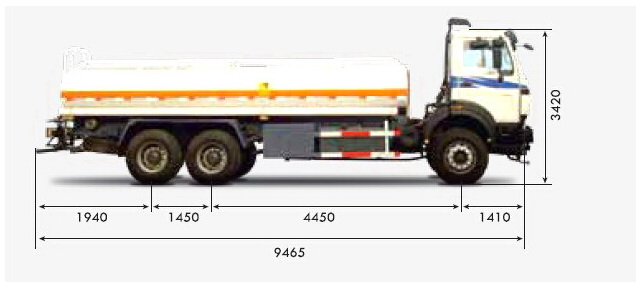 Description:The north benz Water Truck Series has multiple functions, multi-angle powerful dredging,separation zone cleaning, flushing guard rail of freeway, low flat flushingwith strong water flow, road sprinkling, flower watering from both sides.
BEIBEN 6x4 heavy duty water truck for sale
Name
BEIBEN North Benz 6x4 14-20CBM water tank for truck
Drive Type
6x4 LHD(RHD is optional)
wheelbase(mm)
4450+1450
Engine
WEICHAI WP10.270
Transmission
9JS135
Steering
TAS85
Front axle
BENZ 7.5Ton
Drive axle/ratio
BENZ 13 Ton double redution axle/5.263
Frame(mm)
300x90x8+6+8
Leaf spring
13/13
Tyre
12.00-20(12.00R20 is optional)
Cabin

Short cab, made by full steel material, anticrash performance can be ensured by double hollow chamber structure. Inner A/C

Clutch

430mm, hydraulically operating with air assistance

Overall size(mm)

9365x2495x 3055

Curb weight(kg)

11470

Total mass(kg)

25000

Brakes

Brake gap can be adjusted automatically, double circulation air brake system Auxiliary brake: engine exhaust brake

Other detail specifications

1. End Cap material thickness:5mm 2. Material thickness:5mm 3. Number of baffles:3 4. Baffle material thickness:4mm 5. Manhole Qty:1 6. Manhole size:500mm 7. Rear spray: Double adjustable spray nuzzle (Duck mouth shape) 8. Pump discharge capacity: 1000 litres/min 9. Pump type: 80YHCB-60 PTO driven 10. Suction port: 80mm 11. With Ladder

Electrical system

Battery : 2X12V/135Ah

Generator : 28V-35A
Starter : 5.4Kw/24V
Beiben water wagons Water pump technical data as following:
Model: 80QZF-60/90N ,
Flow rate 60m3/h;
Head of delivery: 90m;
input speed: 1180RPM;
Suction ability: 1.5min/4m;
Power: 22.2Kw
Main features of Beiben 15-20m3 water spray truck :
1 The Beiben water tank truck equip with CEEC brand water pump which adopt Japanese technology.
The sprinkle width ›14M
Cannon-shot: ›35M
Vertical lift ›8M
2 With the suction pump and fire coupling, the truck can fill water from the pool or the fire hydrant.
3 Adjustable water shape and volume from the cannon at back part of the truck, and also the cannon can 360° rotate.
4 Metallic paint of water tank which is nice and more corrosion proof.
5 Water pump with water discharge switch to prevent freezing in winter in cold area.
PreviousBeiben 6*6 drive water truck 2538 cabin
NextBeiben 10 wheeler water wagon 2534 type
80 units beiben water tanker trucks are sucessfully export to Alger, Algeria . As the best beiben upper structures manufacturer in china, we can design and manufactur the best quality for beiben tanker truck, range from beiben water tanker truck, beiben oil tanker truck, and beiben cement tanker truck. China authorized beiben trucks exportin...