PRODUCT LIST
CONTACT US
Tel: 0086 136 4729 7999
Email: info@beiben-trucks.com
Address: No 99 , auto industry park, suizhou city, hubei province, china.
Products
North Benz/Beiben Dump Truck With China Suppliers
Product Details
CHINA BEIBEN BEST 8*4 dump truck manufacturer

Authorized Beiben 12 wheeler dump truck supplier

Best price for north benz 8*4 dumper

Mercedes-Benz Technology
Beiben 3134,3138,3142dump truck

Our advantage for beiben Dumper

China Heavy Duty Dump Truck
Engine:WEICHAI ENGINE
Gear box:Fuller ZF8098steering
Parts are available
CCC,ISO,SGS
China Heavy Duty Truck North Benz Beiben Dump Truck
1. Best Chinese 6x4/8x4 Dump Truck Beiben NG80 Tipper Truck with low price
2. Mercedes Benz Technology
3. Left handed drive and right handed drive available
4. High quality parts supply
5. Most professional service

1. BeibenSpare parts available for 10 years
2. Engineer is available to make service overseas
3. 24hours online consultation service
1. All the beiben 12 wheeler trucks will be made antirust before shipment
2. Different shipping method for different port, Ro-Ro Vessel, Bulk Vessel, Flat-Rack, Container, etc
3. Shipment tracking
1. INTRODUCTIONS
From rock, sand or cement, equipment, water, fuel to food product materials and waste, CEEC has you covered.
Since we rolled out Dump Truck No.1 in 1983, we have been providing customers with trucks for loading, conveyance and delivery. With its excellent drive ability, unique comfort, extreme safety and durability, UD dump truck to deliver your material on time, every time.
 Front Lift north benz 8*4 Dump Truck
 Widened and thickened pillars and ribs of the beiben 3134,3138,3142 dump body are densely distributed to ensure powerful anti-expansion performance of the beiben dump trucks dump body
 The thickened channel steel of rear body + full welds guarantee high strength and impact / wear resistance
 Ultra-large cast steel lock hook + manual hook feature good sealing performance and high reliability.
 .Four longitudinal beams of frame are in matts structure and the heighted and thickened cross beams are densely distributed to achieve a strong and impact resistance frame.
 The subframe adopts rectangular tube longitudinal beams and the integral structure features high strength.
 Beiben 380 Hp engine 12 wheeler dump truck Powerful pump and large pipes of the hydraulic system realize fast lifting speed, high dumping efficiency, and durability.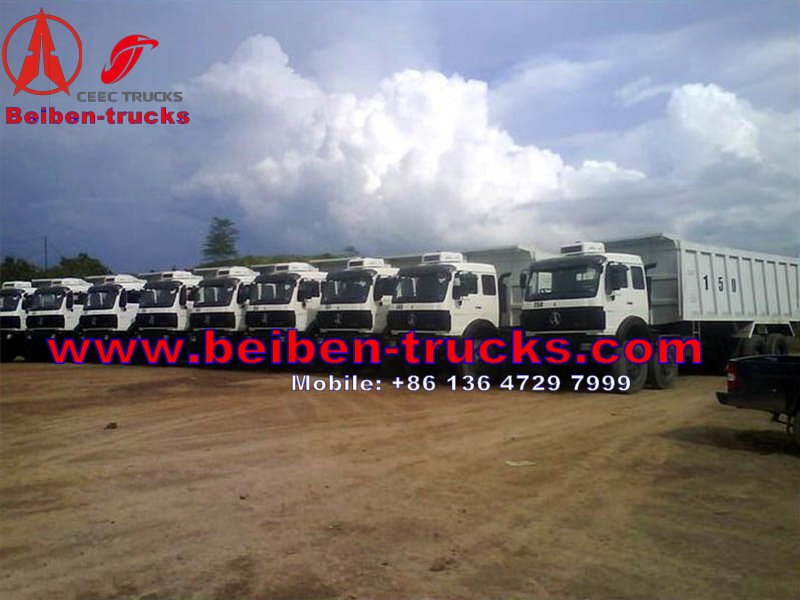 CHINA best beiben 3134,4138,3142 dump truck, beiben 8*4 mining dump truck, beiben 8*4 off road dump truck manufacturer.
3134KY /8×4/1500+3550+1450/Long Cab

Dimension 尺寸

9630*2500*3484mm

Upper body inner dimension

7150x2300x1150 sand body, China famous hydralic lifting system, thickness: bottom 8mm, side 6mm

Approaching angle/Departure angle

33/25°

Overhang(front/rear)

1410/1720mm

Wheel base

1500+3550+1450mm

Max speed

80km/h

Curb weight

14765kg

Loading capacity

16105kg

Slope climbing capability

Max.40%

Engine

Model

WP10.340E32,water-cooled,four strokes,6 cylinders in line,turbocharged, directly injection

Displacement

9.726L/Diesel

Stroke

126/130mm

Max. power

250/2200 (kw/rpm)

Max.torque

1350/1200-1600(Nm/rpm)

Emission stantard

EuroⅢ

Fuel tanker capacity

400L

Clutch

∮430, Single dry frictional disc,Hydraulic boosting

Gearbox

12JS160T, mechanism,12 forward gears,2 reverse gear, manual operated,

Gear ratio of gear box

15.53/12.08/9.39/7.33/5.73/4.46/3.48/2.71/2.10/1.64/1.28/1.00 R:14.86/3.33

Suspension system

Front

Non-free standing leaf spring,telescopic shock absorber with stablizer bar suspension , 10pcs

Rear

Non-free standing stablization spring, balance suspension system, 13pcs

Brake system

Service brake

Brake gap can be adjusted automatically, double circulation air brake system

Assistant brake

Engine exhaust brake

Park brake

Potential springs pressing on middle and rear wheels

Steering system

ZF8098,whole circulation in ball, hydraulic booster

Frame

Fish belly shape, variable width, variable sections

Front axle (Mercedes Technology)

Double-shoe pneumatic brake, non-driving steering axle

Middle and Rear axle (Mercedes Technology)

Double-shoe pneumatic brake, ductile casting casing, with hub redactor, double reduction driving axle

Tyre

12.00R20 Radial

Electrical system

Battery

2X12V/135Ah

Generator

28V-35A

Starter

5.4Kw/24V

Cabin

NG80B long cabin with single sleeper ;
Full steel skeleton structure, covered with double layer steel plate;
Can be tipped forwardly;
High back with arm seat for driver, high back seat for co-driver; With inner A/C
PreviousDump truck dealer north benz 8x4 Beiben 50t chinese dump trucks
NextNorth Benz/Beiben Dump Truck With China Suppliers
CONGO customer order 26 units Beiben NG80B 340 hp dump trucks. all these north benz dump trucks are with china weichai advanced diesel 340 hp engine, germany benz technology. In terms of the whole efforts of CEEC TRUCKS team , all the beien 2534 dump truck 10 wheeler are shipped on board in time, to make sure that customer can get these dump...