PRODUCT LIST
CONTACT US
Tel: 0086 136 4729 7999
Email: info@beiben-trucks.com
Address: No 99 , auto industry park, suizhou city, hubei province, china.
Products
The ND32500B48J7 The Beiben Dump Truck with 380HP Engine For this Tipper
Product Details
Best North benz dump truck manufacturer in china

10 years beiben dump trucks field experience
Beiben china dump truck manufacturing

Mercedes-Benz Technology
Best beiben dumper

CEEC TRUCKS plant is a heavy automobile business unit with the approval of State Administration for Industry and Commerce and State Development Planning Commission and is one of rare domestic enterprises with the authority of Ministry of Commerce.

Adopting modern enterprise system, the company is a marketing enterprise of various heavy automobile brands, integrating international and domestic trade.
1. BeibenSpare parts available for 10 years
2. Engineer is available to make service overseas
3. 24hours online consultation service
1. All the beiben trucks will be made antirust before shipment
2. Different shipping method for different port, Ro-Ro Vessel, Bulk Vessel, Flat-Rack, Container, etc
3. Shipment tracking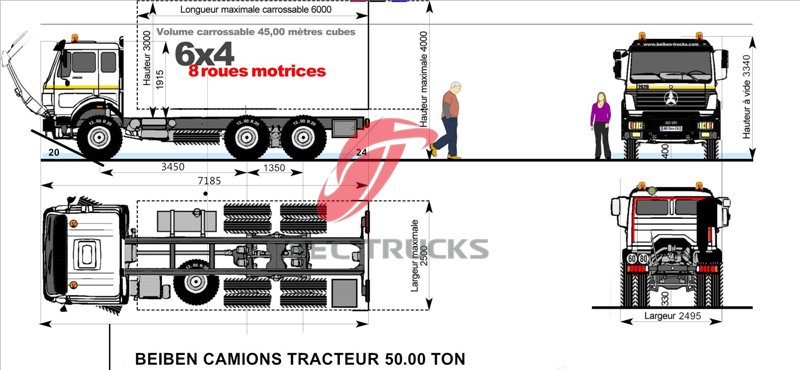 Mercedes Benz Technology WEICHAI engine 340hp & 380hp North Benz Dump Truck
Traction type: 6X4
Driving type: LHD (RHD is optioned)
Wheel base (mm)

5050+1450

Curb weight kg

12420

Engine

Model

WD615.46(Wei Chai engine.Euro II,Based on Styre technology, made in China)

Displacement L

9.726/Diesel

Emission

EURO III

Fuel tanker capacity L

300

Clutch

Model

GFX420, Single dry frictional disc,Hydraulic boosting

Gearbox

Model

RT11509C(Based on Eaton Fuller technology,made in China;transmission ,mechanism,9 gears,1 reverse gear,manual)

Brake system

Service brake

Brake gap can be adjusted automatically, double circulation air brake system

Assistant brake

Engine exhaust brake

Park brake

Potential springs pressing on middle and rear wheels

Steering system

Model

ZF8098

Frame

Fish belly shape, variable width, variable sections

Front axle (Mercedes Benz Technology)

Double-shoe pneumatic brake, non-driving steering axle

Middle and Rear axle (Mercedes Benz Technology)

Double-shoe pneumatic brake, ductile casting casing, with hub redactor, double reduction driving axle

Tyre

12.00R20

Electrical system

Battery

2X12V/135Ah

Generator

28V-35A

Starter

5.4Kw/24V

Cab

Short cab, made by full steel material, anti-crash performance can be ensured by double hollow chamber structure. Inner
■Working principle
Beiben dump truck in great order from our plant.
Beiben 6*4 drive dump truck in customer working site.
The best beiben dump trucks, beiben 6*4 dump truck, beiben 8*4 dump truck manufacturer in china.

PreviousThe Heavy Duty Truck Beiben Dump Truck /Tipper 6X4 V3 Series 380HP 30on -50 ton Dump Truck
NextThe 2013 New Heavy Duty Truck Baotou Beiben Dump Truck 6X4 with 10 Wheels EuroIII
Beiben 2529 dumper in congo customer working site, this north benz 290 hp dumper is used for transporting mine sand, and other low density materia. we supply this beiben dumper to customer in 2011 year. Currently this beiben 25 T dump truck still work very good situation. Our beiben dump trucks quality is very reliable and well accept...